ASUS C21N1818 4850mAh 37Wh 7.7V laptop battery for Asus VivoBook 14 F412DA X412FJ F412FJ A412FA F412FA F412UA
Compatible and suitable for ASUS C21N1818 Laptop Battery, it can be used for the laptop model Asus VivoBook 14 F412DA X412FJ F412FJ A412FA F412FA F412UA. This type of laptop battery has been uploaded to batteryclub.org's shelf list on January 4th, 2021.
*Find ou your original model number or part number(P/N), take out of PC, and move your eyes on the tag of battery.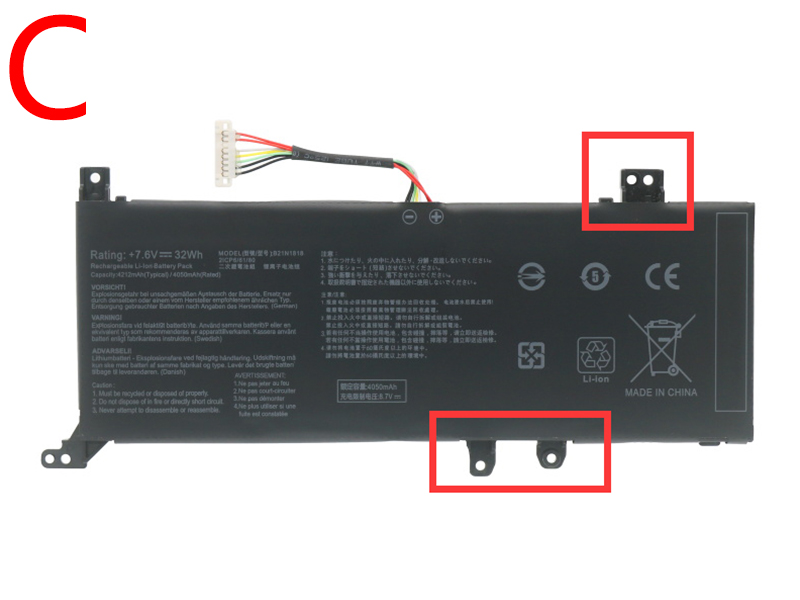 ASUS C21N1818 Full Specifications
Category of Applicability: ASUS Laptop Battery
Chemical Materials: Li-ion
Rated Capacity: 4850mAh 37Wh
Standard Voltage: 7.7V
SKU: ASU20IV859
Part Numbers:
C21N1818 2ICP7/54/83
Compatible Models:
Asus VivoBook 14 F412DA X412FJ-EB023T
F412FJ-EB084T A412FA-EK343T
F412FA-EB019T F412FA-EK037T
F412UA-BV156T X412FA-EK295T
X412FL-EB151T X412UA-EK033T
X412UB X412UF Series Notebook
Other Online Shops
https://www.batteryclub.org/Goods/ASU20IV859-C21N1818-Asus-Battery.html
Description of the ASUS C21N1818 notebook battery
1. It is a built-in laptop battery pack.
2. Chemical materials and cells are composed of lithium ions, no memory benefit.
3. The capacity and voltage of the battery are 4850mAh 37Wh 7.7V, which is close to or the same as the original standard, which can provide your device with a standard working time.
4. It is produced by a reliable Chinese manufacturer and provided by batteryclub, worry-free and reliable!
5. Have CE / FCC / RoHS and other safety certifications.
items of using ASUS C21N1818 battery
1. Check that the original information is fully consistent with the new battery, including appearance, capacity, voltage, metal interface/wire interface, model/part number, device type, and device model.
2. Make sure that the new battery is installed correctly. Wrong installation steps cannot start the device. Check that the buckle and metal interface are properly fixed.
3. When using for the first time, if it shows that the battery power is 0%, please try to turn off the power to charge and activate; or enable BIOS to check whether the battery is correct and compatible.
4. Some computer models have multiple types of capacity, such as 24Wh/48Wh/72Wh/96Wh and other special models of notebook batteries. Please select the correct specification based on the capacity information we provide. Do not arbitrarily choose a large-capacity battery to replace a small-capacity battery, as the size will not match. Please choose a battery with the same or close to your original capacity first (there is a small numerical error between the old and the new, which is normal..)
5. Due to the global impact of COVID-19, everyone needs to protect themselves and their families. The products and services provided by batteryclub bring a touch of comfort and hope to cure of your anxiety. Come on, Ao-li-gei!
*Ao-li-gei is an internet buzzword that means "come on" in China.
Other Recommendations
Panasonic laptop battery compatibility: Panasonic CF-VZSU58U 5600mAh/59Wh 11.1V laptop battery for Panasonic Toughbook CF-19 CF-VZSU28 CF-VZSU48
CLEVO laptop battery compatibility: CLEVO P180HMBAT-8 5900Mah/89.21Wh 15.12V laptop battery for CLEVO 6-87-P180S-427 P180S Laptop
ASUS laptop battery compatibility: ASUS B31N1822 3653mAh/42Wh 11.52V laptop battery for ASUS Q406D Q406DA
MSI laptop battery compatibility: MSI A32-A24 4400mAh 10.8V laptop battery for MSI CX480 CX480MX Medion Akoya E4212 Medion MD97823 MD98039
DELL laptop battery compatibility: DELL N1WM4 62Wh 15.2V laptop battery for DELL Alienware 13 R2 13.3 Inch Series
ASUS laptop battery compatibility: ASUS C32N1301 50WH 11.1V laptop battery for ASUS UX31LA Series
DELL laptop battery compatibility: DELL 9TV5X 30Wh 7.6V laptop battery for Dell XPS 12 9250 Latitude 12 7275
HP laptop battery compatibility: HP 863167-1B1 57Wh 11.55v laptop battery for HP EliteBook X360 1030 G2 Series